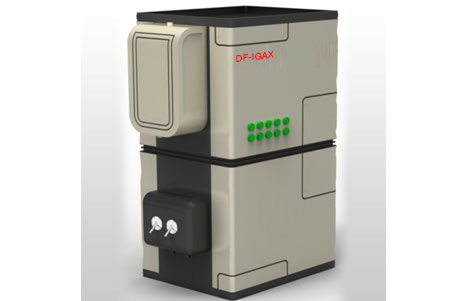 XRF iron grade analyzer (DF-IGAX) adopts non-contact measurement, selects advanced high-energy X-ray tube to excite the iron element in the pulp to produce a characteristic energy spectrum and analyzes the iron element content in the measured pulp by the method of dispersion.
DF-IGAX uses an advanced high-energy x-ray tube to excite the characteristic energy spectrum generated by the iron element in the slurry and it uses the energy dispersion method to analyze the iron element content in the measured substance.
DF-IGAX is consists of analysis main body, upper computer, sampling system, etc. The main body of the analyzer includes x-ray tube, detector, high voltage generator, PLC control unit, electric control unit cabinet, x-ray tube constant temperature system, etc. The host includes signal processing host, industrial tablet computer, board card, application program, alarm system, etc. The sampling system includes gravity flow sampler (pressure sampler), automatic sampler cleaning, etc.
1.Non-contact measurement: No radioactive source, high-energy X-Ray tube is used to avoid direct contact between the detection system and the slurry and prolong the service life of the instrument.
2.Online real-time detection: No need for quantitative sampling, processing and preparation. Real-time detection.
3.Strong adaptability: It is not affected by changes in material size, concentration and composition, it has excellent adaptability to site conditions and material conditions, with high precision and high stability.
4.Stability and reliability: High-resolution, high-count rate semiconductor detectors are used. High precision: The product precision has reached the international advanced level, which fully meets the needs of users to guide production.
5.Targeted design: It adapts to working conditions and user needs, provide targeted design and solutions.
6.Easy maintenance: Supporting automatic control function, reducing manual maintenance, simple and convenient maintenance.
7.Easy to install: Modular design of the product, strong adaptability to site conditions, simple and fast installation and debugging.

Application industry: Ferrous metal mine beneficiation industry.
Application solution: Analyze the content of iron in the measured substance.
Application scenarios, problem-solving: It has outstanding effects on the grade detection of raw ore, concentrate and tailings in each iron ore beneficiation process. It can conduct online detection of raw ore, concentrate, tailings and other process points in the iron beneficiation process for production and automatic control provides real-time data.