Iron Slurry Grade Analyzer (DF-IGA)
Products
Overview
Features
Specifications
Applications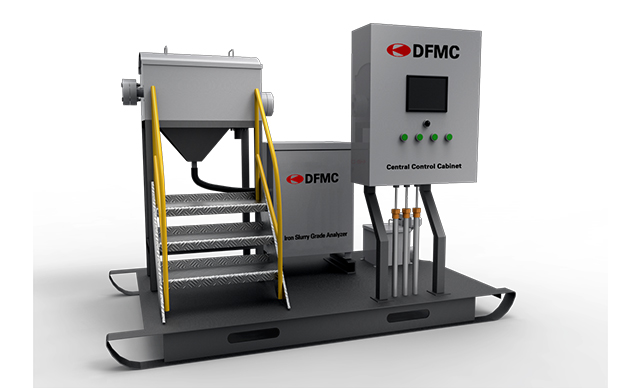 Iron slurry grade analyzer (DF-IGA) is an instrument used for online real time grade analysis of Fe within slurry. It adopts dual-energy gamma-ray absorption method and gets iron grade through spectrum unfolding analysis on complex transmission spectrum generated during two kinds of gamma rays with different energies transmit the slurry.
DF-IGA is a robust instrument for grade detection. Small space usage enables DF-IGA can be easily installed. Good adaptability allows long-term stable and reliable operation as well as small maintenance cost.
DF-IGA can realize continuous and stable online iron grade detection which is suitable for Fe content detection during mineral processing. It can participate in and even guide the automatic control of production process.
Real-time: DF-IGA outputs grade result every second so that the operator can tell the production condition in time. It enables rapid adjustment and avoids bad influence on product quality due to lagged chemical analysis.
Adaptability: The main measuring unit of DF-IGA can be installed in a whole or in disassembled parts according to different site conditions.
Low maintenance cost: DF-IGA is equipped with an automatic flushing unit which will flush the pipeline for cleaning. This saves the user from frequent maintenance.
Durability: Non-contact measuring method is adopted to ensure the long and stable operation of DF-IGA.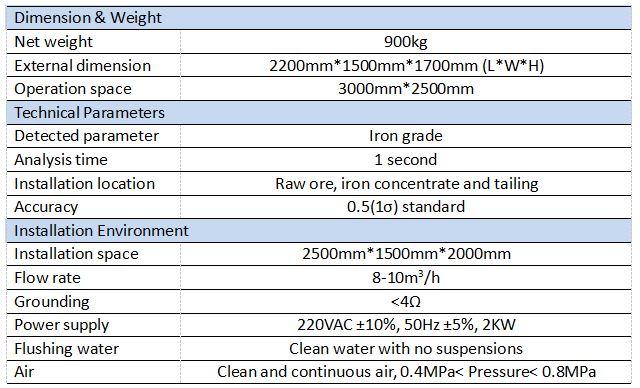 Application industry: Ferrous metal mine beneficiation industry.
Application solution: Analyze the content of iron in the measured substance.
Application scenarios, problem-solving: It has outstanding effects on the grade detection of raw ore, concentrate and tailings in each iron ore beneficiation process. It can conduct online detection of raw ore, concentrate, tailings and other process points in the iron beneficiation process for production and automatic control provides real-time data.