The DF-MMABL microwave sideline sand and gravel moisture detection system can be applied to the production of sand and gravel aggregates and concrete mixing industries. The instrument adopts the principle of microwave transmission attenuation, automatically samples from the on-site silo through the application of sideline measurement. According to the on-site users, the set time interval (minimum interval 60s) realizes the measurement of the water content of aggregate and sand, then guides the water distribution in the production process to ensure product quality.
DF Microwave By-pass Moisture Detection System is a fully automatic moisture detection system independently developed by our company that integrates sampling, detection and control. It can perform high-precision and rapid detection of the moisture of materials in a variety of silos. The system adopts a by-pass design and it has a strong ability to adapt to the on-site working environment. The detection process is fully automated without manual involvement. The detected samples are directly returned to the production process without causing waste of samples. The detection results are accurate in real time. It can provide reliable real-time moisture data for on-site ingredients, water distribution and other production process stages, guide the production process, ensure process stability and product quality, improve the overall intelligent level of on-site production.
1.By-pass measurement, strong adaptability to working conditions and environment, high accuracy of moisture detection.
2.Using the principle of microwave transmission, the measurement data is representative.
3.The system realizes automatic sampling, measurement and data upload. The samples after measurement are returned to the production process without waste of materials, the entire process does not require manual participation, which improves the level of process intelligence.
4.With strong real-time performance, the water content of the sand material can be tested before the water distribution of each tray, the customer can be guided to adjust the water distribution ratio in real time.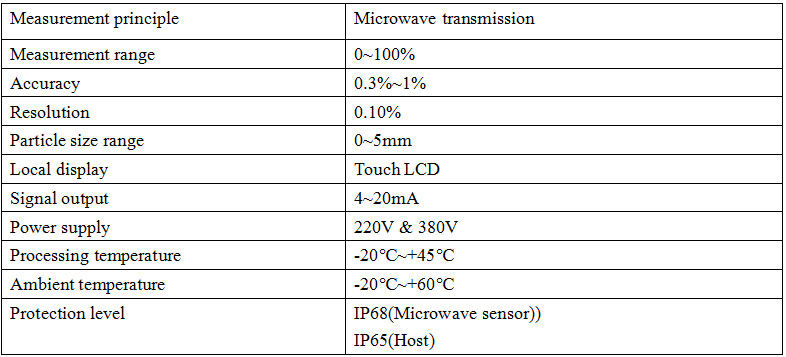 The instrument is used to realize the sand moisture detection before concrete mixing in a Beijing Concrete Co., Ltd.. Due to the frequent replacement of different types of materials (sand, stones, etc.) on a main belt of concrete batching, the continuity of the material flow is poor, so the by-pass measurement system should be installed at the outlet of the sand silo. When the outlet of the local warehouse starts to discharge, the measurement starts sampling and measurement simultaneously. After the measurement is completed, the sample sand is returned to the main belt of the on-site process conveying material. The measurement result is displayed on the local instrument box, the data is communicated to the DCS system through the 4-20mA signal synchronously. After the measurement system is putting into field application, the field verification accuracy is higher than 0.5% in the commonly used 3%-11.5% moisture range.