The KJ521 mine personnel management system is a comprehensive application system that integrates underground personnel attendance, tracking and positioning, post-disaster first aid, daily management. The system can timely and accurately reflect the dynamics of personnel and equipment in various areas of the underground to the ground computer system, so that managers can grasp the distribution of underground personnel ,equipment and the movement trajectory of each miner at any time, so as to make more reasonable dispatch management. When an accident occurs, rescuers can also quickly understand the location of relevant personnel based on the data and graphics provided by the KJ521 mining personnel management system and take corresponding rescue measures in time to improve the efficiency of emergency rescue work.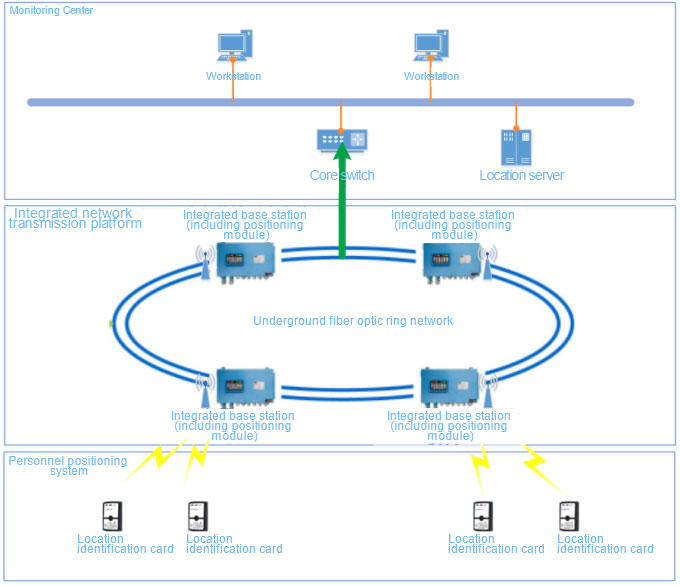 Personnel Location Card

The positioning card is a wireless terminal device that realizes the positioning and management of underground personnel. By communicating with the positioning module in the integrated card reading substation, the position information and status information of the positioning card can be uploaded to the server.
Functions:
1.It has the function of sending wireless coded signals. During normal work, it transmits wireless coded information representing itself to the card reading sub-station about every 5 to 7 seconds, the green light flashes once at the same time;
2.With acceleration judgment function, the card is in a moving state during normal work, it works periodically every 5 to 7 seconds; the identification card is in a static state and works periodically for 1 minute.
3.It has the function of receiving wireless coded information. When an alarm signal is received, the identification card will flash a red light, it will give out vibration and sound prompts;
4.It has a battery under-voltage prompt function. When the battery voltage is 2.8V±0.1V, it will send out a battery under-voltage signal while sending the wireless code to the positioning module, the flashing green light will turn red;
5.With an emergency call button; press the manual alarm button, the alarm information will be transmitted by radio.