Several key sub-systems are covered in intelligent mine solution, including
Mine resources digital system
Based on the mine geological exploration data, establish 3D model of mine resources, ore body and resource grade model. According to the mineral resource situation, carry out mining boundary optimization, resource reserve calculation and grade grading calculation. According to the mineral resource situation and mining status, prepare and update medium and long-term production plan.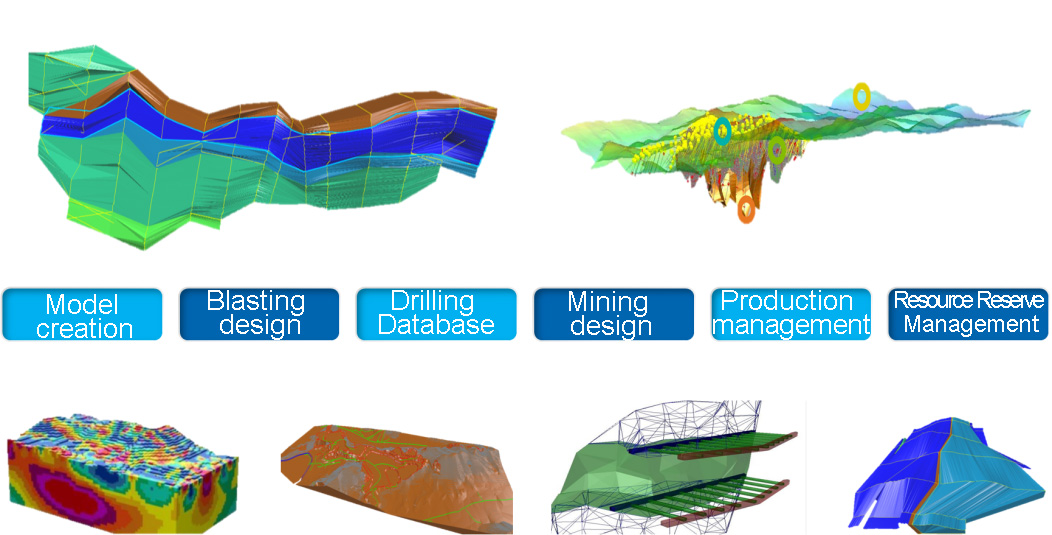 Intelligent management system
The data related to truck dispatching system, equipment operation, production process, material spare parts, quality inspection and so on are collected, processed and stored in a unified data center. The intelligent control system established based on the data center carries out statistics, analysis and display of relevant business and production data, so as to optimize the management process, realize real-time monitoring of the production process, adjust production intelligently. With the help of mobile APP, it realizes the management of equipment point inspection, inspection and maintenance, online timely treatment of safety and environmental protection hazards, online viewing and approval of relevant documents, thus realizing intelligent management and improving office efficiency.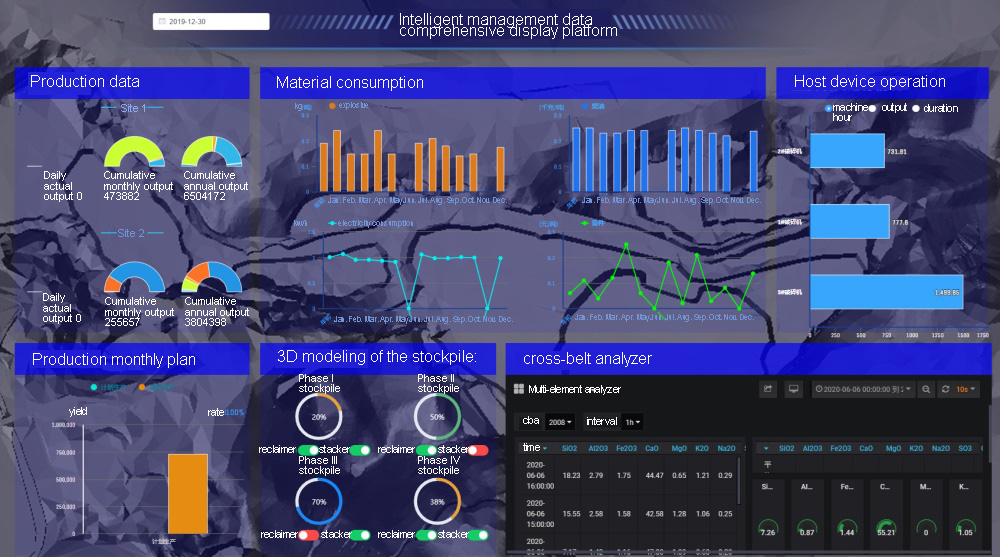 Intelligent fleet management system and proportioning optimization
The fleet management system can realize truck intelligent scheduling, equipment status management, automatic metering, map editing, historical track review, vehicle speed monitoring, anti-collision alert, alarm and other functions. Combining with intelligent proportioning system, it can improve mine production efficiency and optimize production ore grade.
3D visual management system
Based on GIS system, the 3D display platform is established based on geological survey data and production data of mines, combined with mine resources and mining environment. It realizes 3D virtual simulation of mine, establishes 3D model of mine production equipment. It can realize video monitoring, equipment positioning, production grade display and other functions in 3D scenes, showing real time dynamic display of mining process, and combines with digital mining software and intelligent control platform to display the distribution of blast pile grade and guide the positioning of shovel loading position, realizing real-time control of mine production.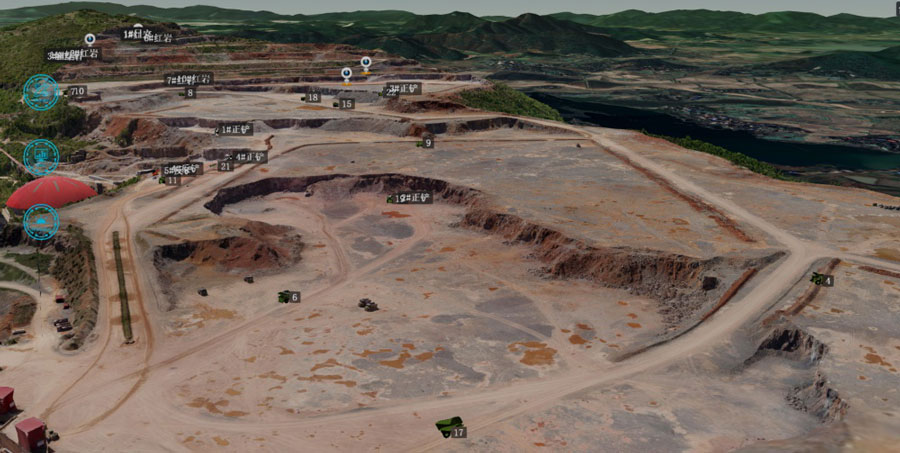 All-in-one Integration
From production scheduling digital software, to intelligent management platform with multiple functions including production management, mine resource management, optimal ore allocation, intelligent decision making, etc. As well as real-time measurement technology and 3D stockpile system, DFMC has developed and applied them to cement plants with reputation.
Experiences
With more than 20 years of accumulation in the field of digitization and intelligence, we have provided intelligent mine solutions and services for many well-known cement groups such as CNBM Group, Conch Group, JIDD Group, Huaxin Group and Sanssy Group, etc.
Professional
There is a technical support team of 300+ professional staffs who will provide solutions and services based on different needs from the users. Customized software and lifetime upgrade are also available.
Make reasonable production plan and prolong lifetime of quarry;

Build up 3D geographic model, calculate resources for production plan making. Realize digital and precise management for resources;
Realize visual display of resources and production status through 3D GIS platform;
Optimize quarry production, utilize low grade limestone while maintaining product quality, utilize resources effectively;
Realize intelligent vehicle dispatching, optimize vehicle arrangement to improve equipment efficiency and reduce energy consumption;
Realize whole process quality supervision to ensure production quality;
Improve management benefits, reduce maintenance cost and equipment failure rate;
Reduce labor strength and personnel cost, improve management accuracy;
Realize green, environmental friendly and safe production.