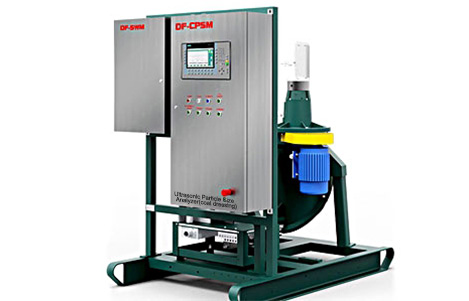 The Coal Ultrasonic Particle Size Analyzer is a patented product independently developed by DFMC which provides accurate and real-time measurement of particle size of slime water through the process of raw slime separation and flotation feeding. The particle size analysis of slime water effectively solves the problems of traditional process data lag. Based on the real-time detection information and the control system, the analyzer can optimize and adjust the process in advance to make the flotation system more stable and effectively saving the consumption of flotation reagents, thereby improving production efficiency, stabilizing product quality, increasing product recovery rate and reducing energy Consumption to achieve the comprehensive goal of "reducing manpower, improving efficiency and security".
The installation of Coal Ultrasonic Particle Size Analyzer is designed upon actual application condition on site, generally including the instrument host, power distribution control cabinet, multi-channel converter, etc. At the same time, the sampler is selected according to the on-site process conditions.
1.Apply to raw coal slime separation, flotation feed slime water concentration, particle size on-line detection, in order to improve the flotation clean coal output and chemical consumption to provide the direction of work.
2.1-3 flow channels, analyze 5 particle grades and concentrations at the same time. Effectively monitor key particle grade indicators such as +0.5mm, +0.25mm.
3.Real-time data is refreshed in seconds, completely solving the problem of manual sampling and testing lag.
4.Precise monitoring and control, effectively solving and avoiding various impacts on production caused by changes in concentration and particle size.
5.Effectively ensure the stability of the feed concentration and particle size distribution, creating conditions for the intelligent control of upstream classification and sorting processes.