01 Product Introduction
In the beneficiation process, particle size is a very important indicator in the grinding and classification process, which directly affects the processing capacity, energy consumption, steel consumption and the processing effect of the subsequent process flow. The application of Ultrasonic Online Particle Size Analyzer (DF-PSM) better solves the problem of real-time detection of process pulp particle size, and ensures that the production process is in the best working state under the premise of qualified particle size, that is, the grinding and classification quality is the best and the output is the largest. At the same time, the labor intensity of workers can be reduced and the problem of poor control caused by the lag of manual testing can be solved. In recent years, with the continuous improvement of the grinding and classification process, the demand for ultra-fine particle detection has risen sharply, while no better solution had been carried out due to the limitations of the original technology.
DF-PSM, which is independently developed by DFMC, is an online slurry particle size detection instrument. The product optimizes and upgrades the ultrasonic signal acquisition unit. Based on re-establishing the auxiliary parameter setting standard through mathematical modeling, combined with statistical metrology method to determine reasonable ultrasonic frequency range for particle size detection, and extensive experiments try and continuously improve the work of the data regression algorithm, the technical problem was eventually completely solved. And this filling the technical gap of online particle size detection in the field of ultra-fine particles in China. DF-PSM has been successfully applied in one plant of Benxi Iron and Steel Group , which has been unanimously recognized and praised by customer.
02 Principle and Structure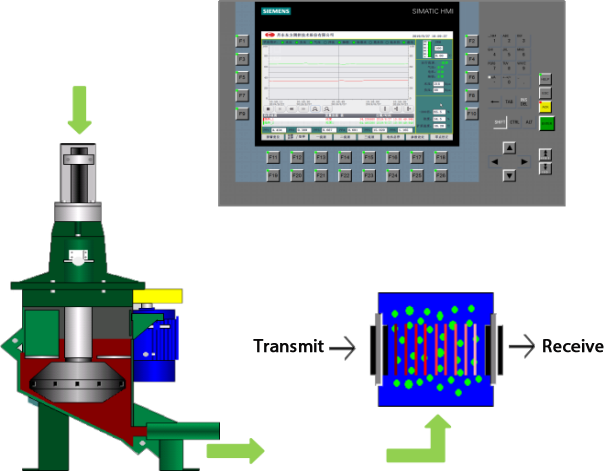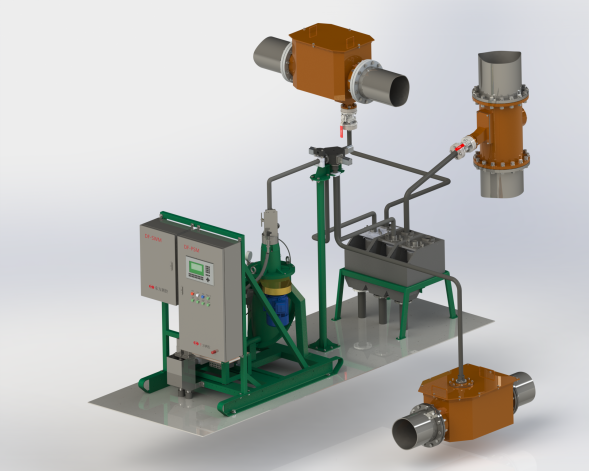 03 Product advantages
(1) Widely particle size detection range from 1 to 1000 microns, which can be optimized according to the application.
(2) Online real-time detection. Fast measurement speed. Real-time tracking of process fluctuations. And effective guidance for the stability and optimization of production.
(3) High accuracy. High-resolution, large dynamic ultrasonic testing technology has been applied. The accuracy has reached the international advanced level, which can fully meet the needs of users to guide production.
(4) Strong adaptability. Measurement will not be affected by other interference conditions such as air bubbles. Single instrument can detect 3 slurry flow channels, and each flow channel can measure 5 particle sizes and 1 concentration value at the same time.
(5) Strong representativeness, accumulated rich practical experience in field application. Best sampling plan will be designed (reduced sampling station, multi-functional sampler) for different detection process points to ensure the representativeness, circulation and reliability of pulp sampling.
(6) High reliability/maintainability. PLC architecture and structural components of the main control system are fully upgraded, and the modular design and manufacture are carried out. Modern operator interface, intelligent diagnosis. Remote monitoring can minimize maintenance requirements.
(7) Good control effect, high precision, high reliability, high sampling representativeness, comprehensive automatic communication interface, more refined automatic closed-loop control of the grinding process system.
04Technical Parameter
| | |
| --- | --- |
| Measurement Range (Particle Size) | 1 to 1000 microns, which can be optimized according to the application. |
| Measurement Range (Concentration) | 4%~6% |
| Target Particle Size Detection Concentration | Absolute error of online detection accuracy ≤2.0%(1σ) |
| Target Concentration Detection Concentration | Absolute error of online detection accuracy≤2.0%(1σ) |
| Communication Interface | 4~20mA/Profibus DP/Other can be customized |
| Output | Particle size, concentration |
| Ambient Temperature | -10~+50℃ |
| Work Vibration | <10g,20Hz |
| Water Requirements | General industrial water standard, 25~30m3/h, pressure 350~550kPa |
| Air Source Requirements | Clean, dry air source 01~0.15m3/h, pressure 600~750kPa |
| Power Requirements | 380VAC; 50/60Hz; 3-phase; 6kW |
| Installation Platform | 3.5mx2.8m horizontal base space, 25m vertical space and can support 1500kg weight |
05 Typical Application

In one plant of Benxi Iron and Steel Group, the particle size of ore crystals is small. In the third stage of grinding, the particle size of 500 mesh (- 25 microns) varies from 70% to 95% and the mass concentration varies from 10% to 60%. Also, the source of raw ore on site is frequently replaced, and the variation range of its concentration and particle size is close to or even beyond the detection range of the analyzer. By upgrading the ultrasonic measurement system and algorithm model, DF-PSM can effectively track and detect ultra-fine particle process pulp. The problem of difficult detection for original particle size analyzer's three-stage-500 mesh target particle size and inadaptability to the frequent changes in the field process was solved. After the calibration and variation for nearly 2 months of the improved ultrasonic particle size analyzer, the particle size detection accuracy of -500 mesh samples has reached 0.99%, which meets the site requirements and can guide site production.