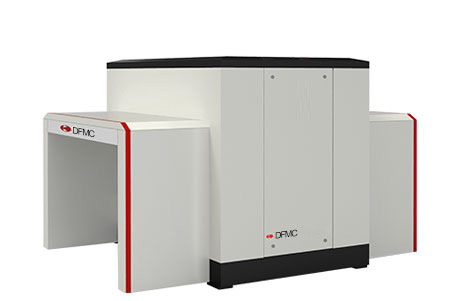 Cross-belt elemental analyzer (EA-COAL) is the major achievement of the national neutron activation scientific instrument development project. It is a rapid gamma neutron activation analyzer (PGNAA). The analyzer provides detection results every minute and analyzes the main coal quality parameters and industrial indicators in real time, effectively supervising and controlling coal quality, improving production process, reducing production costs, and improving product quality.
EA-COAL is modular structure which can be installed around the belt without cutting the belt. The belt slides over the brackets in the measuring device to detect all the materials flowing through when the equipment in operation. There is no contact between equipment and material during the entire measuring process or any affect for belt operation.
EA-COAL has great significance for online detection of coal mining, coal washing, coal blending, coal-as-fired and other production process control.
Until now, online element analyzer and its similar products have been successfully applied for more than 500 sets around the world such as Cayman Aluminum Thermal Power Company, Fukuang Zhongji Thermal Power Company, Indian National Thermo Power Group, Shanxi Coking Coal Group, China National Building Material and Cement Group, etc. of Cement and coal & power industry.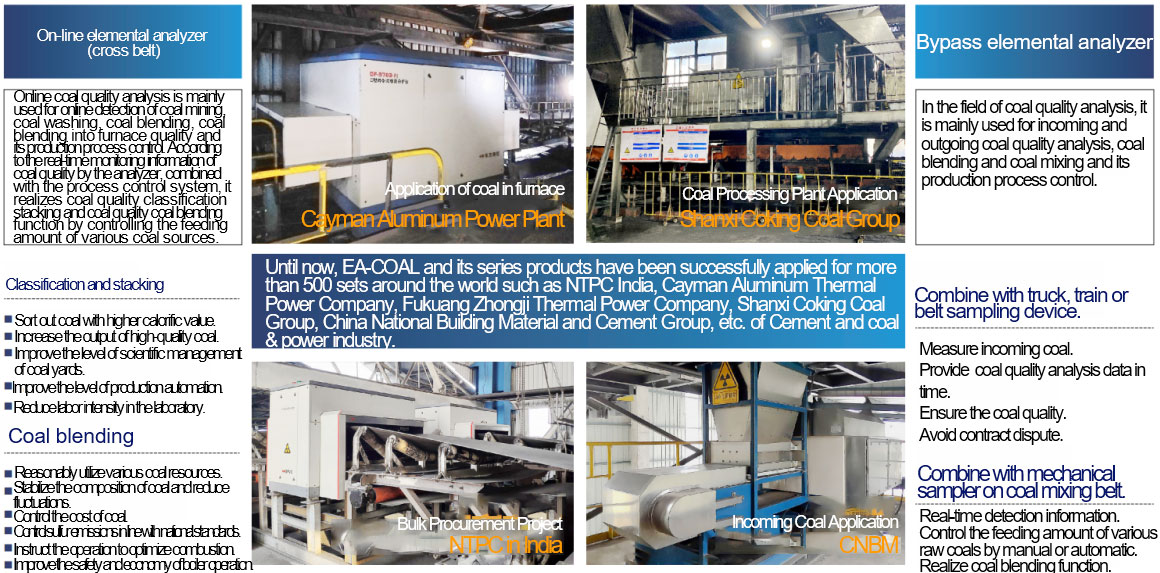 Online elemental analyzer (Cross belt):
In the field of coal quality analysis, it is mainly used for on-line detection of coal mining, coal washing, coal blending, and mixing coal quality into the furnace as well as its production process control. According to the real-time detection information of coal quality, combine with the process control system, to realize the separation of pile upon quality and coal blending by control the feeding of coal from different sources.
Classification and stacking:
1. Sort out coal with higher calorific value.
2. Increase the output of high-quality coal.
3. Improve the level of scientific management of coal yards.
4. Improve the level of production automation.
5. Reduce labor intensity in the laboratory.
Regarding coal blending:
1. Reasonably utilize various coal resources.
2. Stabilize the composition of coal and reduce fluctuations.
3. Control the cost of coal.
4. Control sulfur emissions in line with national standards.
5. Instruct the operation to optimize combustion.
6. Improve the safety and economy of boiler operation.
Online elemental analyzer (bypass type):
In the field of coal quality analysis, it is mainly used for quality analysis of incoming and outgoing coal, coal blending and production process control. Combine with truck, train or belt sampling device.
1.The incoming coal can be measured
2.Provide coal quality analysis data in time.
3.Monitor the quality of coal.
4.Avoid contract disputes.
Combined with the mechanical sampling machine on the coal belt:
1. According to real-time detection information.
2.The feeding amount of various raw coals is controlled manually or automatically.
3.Realize coal blending function