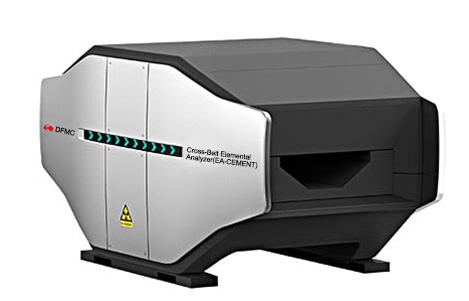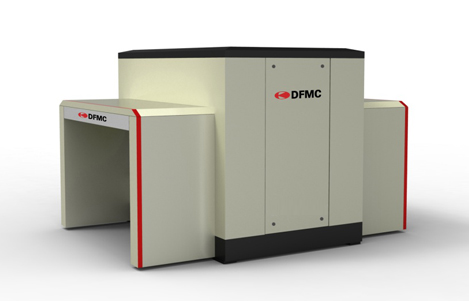 Cross-belt elemental analyzer (EA-CEMENT) is a type of online detection and analysis equipment independently developed by DFMC. It adopts neutron activation prompt gamma analysis (PGNAA) technology for limestone ore proportioning, raw mixing, clinker testing, cement blending. The content of calcium, silicon, aluminum, iron, magnesium, potassium, sodium, sulfur and chlorine can be detected in real time, which has played an important role in improving the level of quality control of cement enterprises.
EA-CEMENT has a modular structure and it can be installed around the belt without cutting the belt. When EA-CEMENT is operating, the belt slides over the bracket in the measuring device to detect all the materials flowing through. The whole detection process does not touch the material and it does not affect the operation of the belt. The composition results are given in real time, the content of each element and related quality control parameters are accurately analyzed.
1. Undertake the China neutron activation major scientific instrument and equipment development project.
2. With independent intellectual property rights, it has the ability to continuously upgrade research and development.
3. It is widely used in major China cement groups and it is also the choice of more than 500 customers in China.
EA-CEMENT is widely used in cement plants all over the world. So far there are more than 500 references of EA-CEMENT.
Case 1 – CRH YATAI
After using EA-CEMENT, the RMSD of SiO2 decreases 50%.
More low grade limestone are utilized to prolong the lifetime of the quarry, utilized limestone SiO2 content rises to 7% from 4%.
Case 2 – CNBM SINOMA
After using EA-CEMENT, LSF qualified rate improves 30%.
Less additive raw materials are required and reduce much cost.
Case 3 – CUCC
After using EA-CEMENT, LSF qualified rate raised to 90%.
EA-CEMENT replace the pre-blending yard with EA-CEMENT, millions dollars investment was saved.