The production execution system of DFMC Open-pit Mining will be based on the on-site production process to control the mining links, obtain real-time mining production information in time and analyze production data. Combining open-pit mine GPS intelligent dispatching data, blasting pile information, electric shovel operation information, ore supply information, etc., to improve the overall resource management and control capabilities.
1.Mining plan and acceptance management
Mining plan management mainly revolves around the formulation, review, implementation and completion of the stripping schedule plan, it provides an effective stripping plan management tool for the production technology department and mining plants. Production management personnel can manage the stripping plan through the system and track the execution of the plan.
2.Mining production information release system
The main goal of the system is to coordinate the upstream and downstream process of mining and beneficiation, coordinate the supervision of the mining production process, controllable sharing of real-time data of mining production, strengthen management and control, improve resource utilization and management capabilities. Real-time display of the current production status of the mining area, including: truck location, power shovel location, drilling rig location, burst location, etc., display specific information of trucks, power shovel and drilling rigs. The map can be zoomed, panned, scaled and zoomed by the mouse wheel.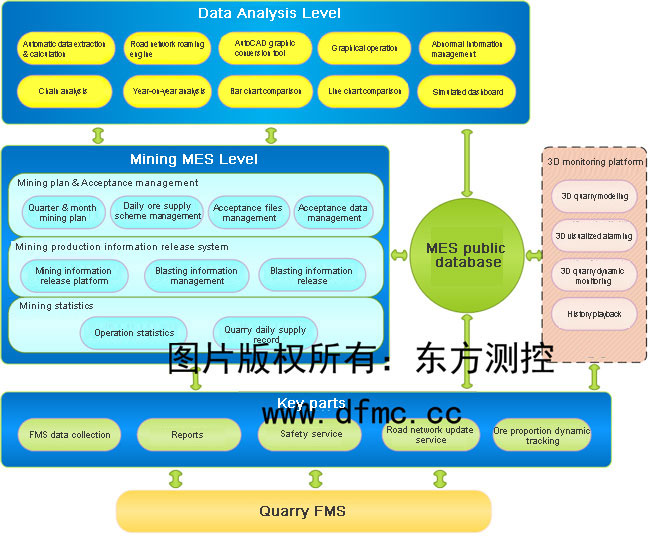 3.Ore distribution management
According to on-site data, the shipment volume of each blast pile shoveling equipment in each shift is counted, the metal content of the blast pile is calculated according to the metal grade of the blast pile to form a ore supply record. The system can designate the planned grade, actual grade and the grade of factory testing for a certain period of time to generate a line chart. Through the line graph, it is possible to intuitively compare and understand the difference between the actual ore supply grade and the planned value within a period of time, understand the fluctuation of the ore supply grade.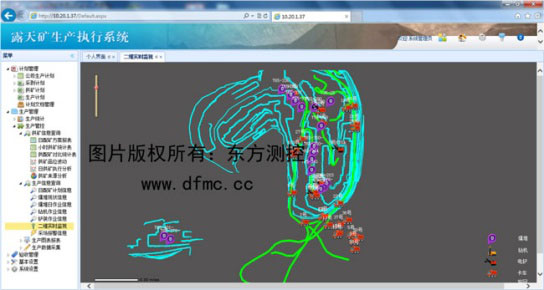 4.Mining statistics
Collect mining data from the truck dispatching system, including mining data statistics such as ore output, rock output, ton-kilometer transportation distance, etc. The development of mining data statistical reports and statistical curves is convenient for the statistics and assessment of the ore volume and various grade indicators. The statistical cycle is set flexible and it can be as small as one hour, which is beneficial to stabilize the quality of ore supply.
5.Mining information integration
The mining MES system can be integrated with the mining area such as the card adjustment system, three-dimensional geological model, oil detection, anti-collision warning, video monitoring system, etc., it goes to collect the monitoring data of each system, the user can log in once and enter according to his own functional authority. Go to each corresponding system to visit.