MES is the abbreviation of Manufacturing Execution System (MES), which is a production-oriented integrated information system located between enterprise resource planning layer and field control layer, it can realize the integration and connection of business system and control system.
DF-MES is a comprehensive production control system for coal enterprises based on years of experience in software development and project implementation. Combined with measurement and control technology and industry advantages, we offer you a comprehensive control platform integrating monitoring, statistics, scheduling, measurement, testing, equipment, safety and other services.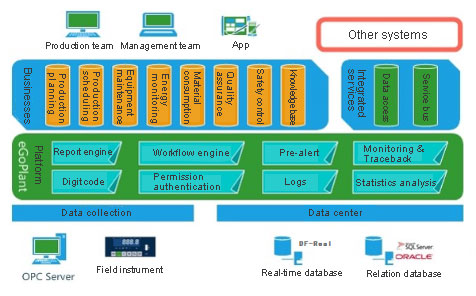 The system relies on eGoPlant, an easy-to-configure plant management platform developed by DFMC for many years, it supports a variety of system buses and communication protocols, and can communicate with various intelligent measurement and testing instruments on site in real time. The system integrates our own intellectual property rights of DF-Real real-time database system, which can collect and store real-time data of the production site online in real time.
Displays historical and real-time production process parameters, equipment operation and start-up rate, coal processing output and trend of the production system by analyzing the collected and stored production data, focusing on production-related information such as storage level, ash content, density and ton of coal media consumption.
Closely integrated with the automation control system, reflecting the production site condition and equipment operation index in real time, and improving the visualization of coal processing production site;
Realizing the traceability of coal processing production process through historical data playback and statistical analysis.
Multi-mode and multi-angle data analysis and presentation, helping production managers to analyze the production process, summarize experience and realize sustainable improvement of coal processing production.