Intelligent manufacturing is the only way for the cement industry to become stronger. World's cement industry is systematically promoting the intelligent production of the whole cement process, optimizing resource allocation and improving labor productivity with the help of cutting-edge technologies such as artificial intelligence, 5G, big data, cloud computing and industrial brain.
As a leading intelligent manufacturing solution provider in China, DFMC is building a whole-process intelligent manufacturing solution for cement enterprises with core technologies such as intelligent mine, cross-belt elemental analyzer, automatic laboratory, kiln & mill expert control system, equipment failure prediction and health management system (PHM), intelligent inspection system, unmanned driving, intelligent logistics system, intelligent management platform and 3D visualization. DFMC helps users to continuously reduce costs, improve competitiveness.
Levels of intelligent cement plant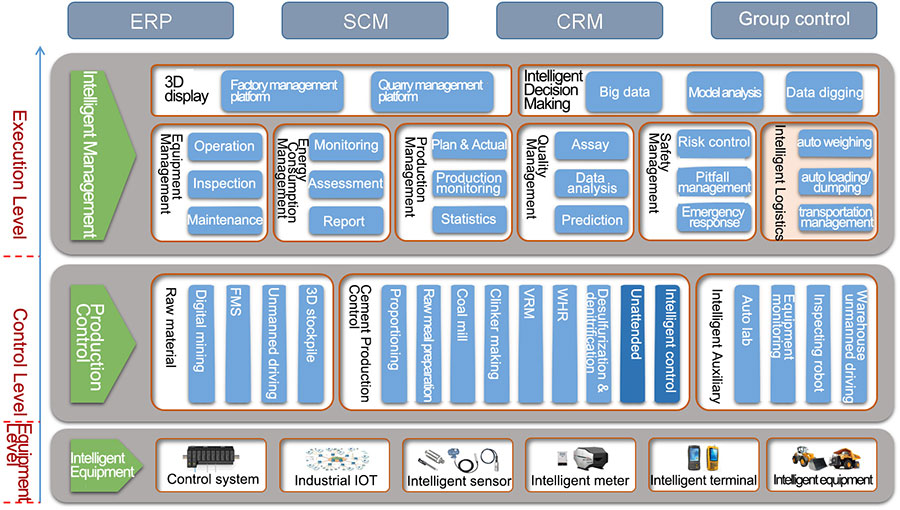 Intelligent mine
Intelligent mine integrates artificial intelligence, big data, cloud computing, online measurement, communication & navigation technologies to achieve self-planning, self-awareness, self-decision making and self-operation in the design, production, safety and operation process. It is designed to improve production efficiency and economic benefits of the mine. The solution includes a control center, two platforms and multiple sub-systems.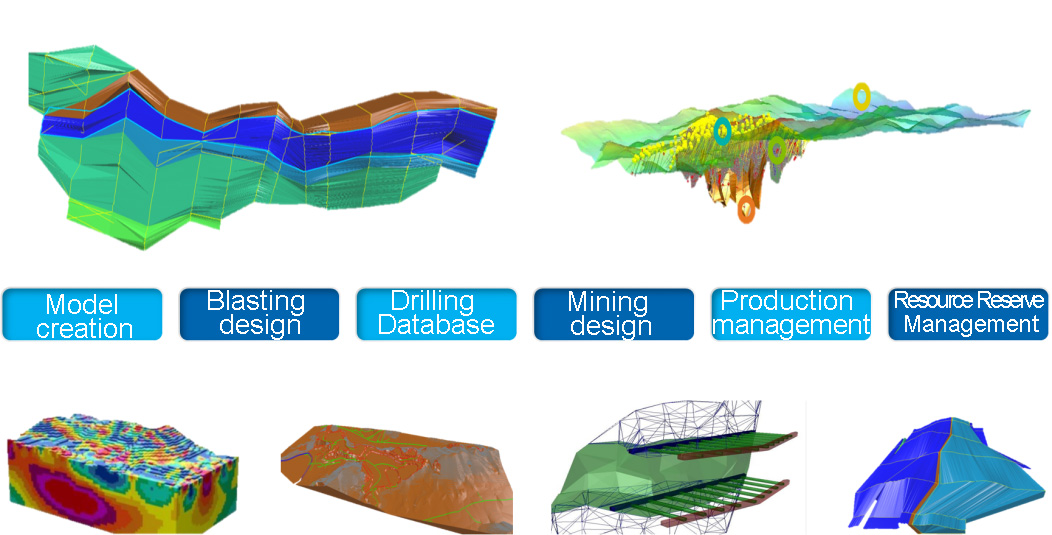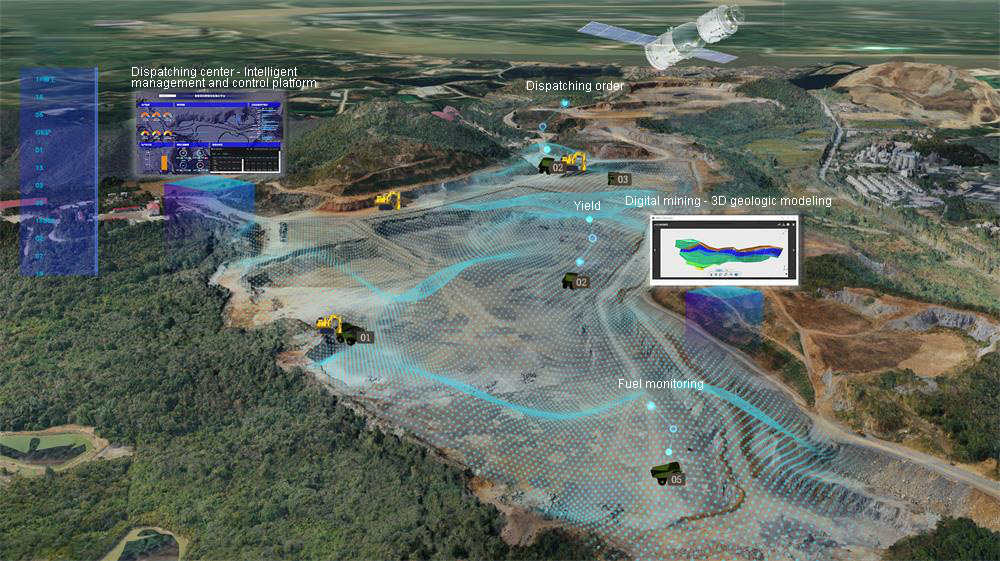 Intelligent plant
Cross-belt elemental analyzer
It is a cutting-edge online measuring instrument developed by DFMC. Using PGNA technology, the analyzer can detect content of Ca, Si, Al, Fe, Mg, K, Na, S, Cl at real time. The cross-belt elemental analyzer is designed for limestone proportion, raw mix, coming coal detection, clinker detection and cement proportion. It has been widely applied in over 500 cement plants including top-class cement producers.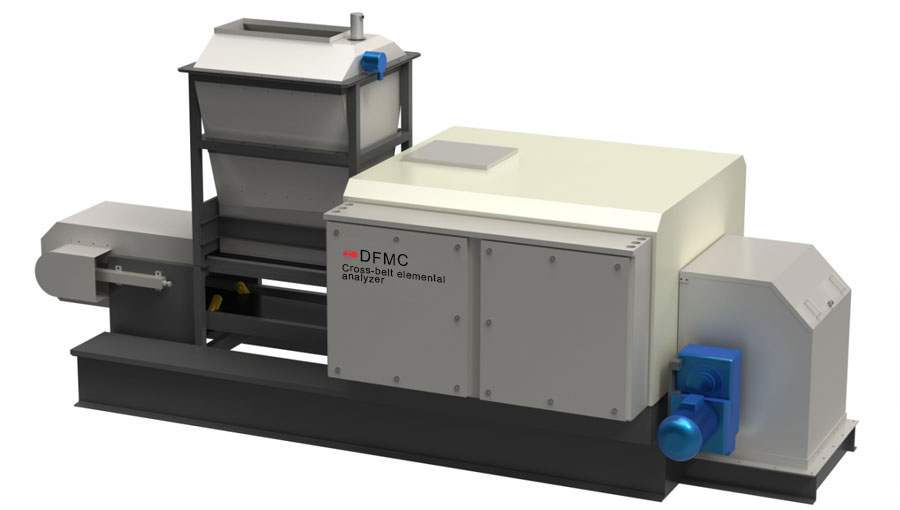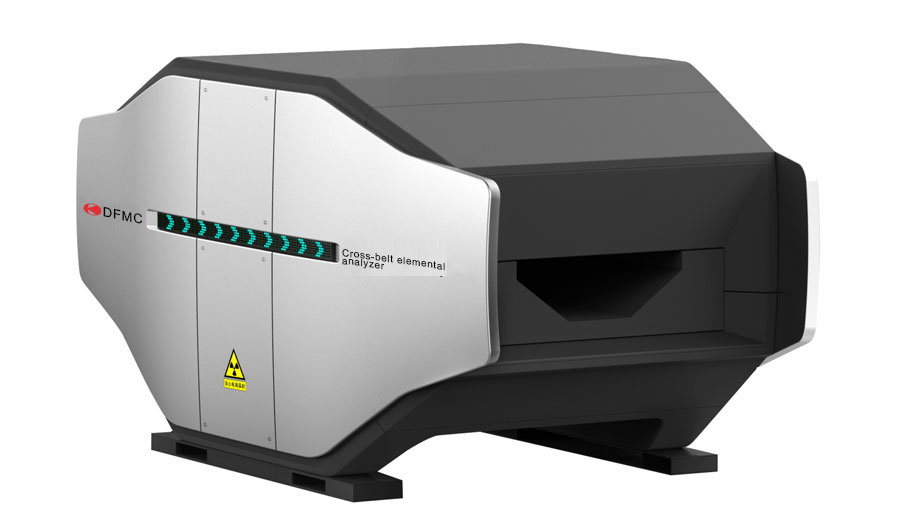 Auto lab
The automatic laboratory (Auto lab) can realize automatic sampling at site, the samples are automatically delivered to the laboratory. The sample preparation and analysis are all done automatically. It can help to stabilize product quality, improve raw material utilization, reduce energy consumption, improve management efficiency and save labor costs through intelligence and unmanned operation.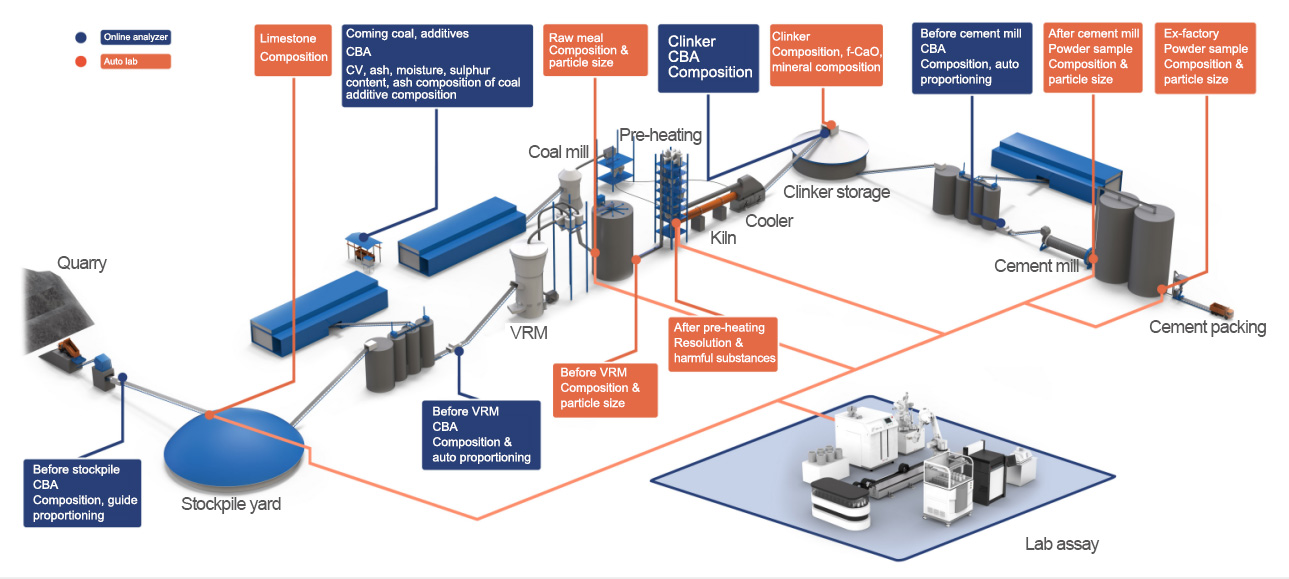 Stockpile 3D modeling system
The Stockpile 3D modeling is used for 3D digital modeling to track the real-time composition of limestone, sandstone, raw coal and other homogenized stockpiles. The system uses positioning devices and scanning devices on stacker and reclaimer to accurately monitor the direction of material trial. It combines real-time detection results from CBA and then performs a 3D digital model of the grade of each component of the stockpile, it can accurately calculate the grade information of each reclaiming section to provide feedback control to the DCS/intelligent quality control system.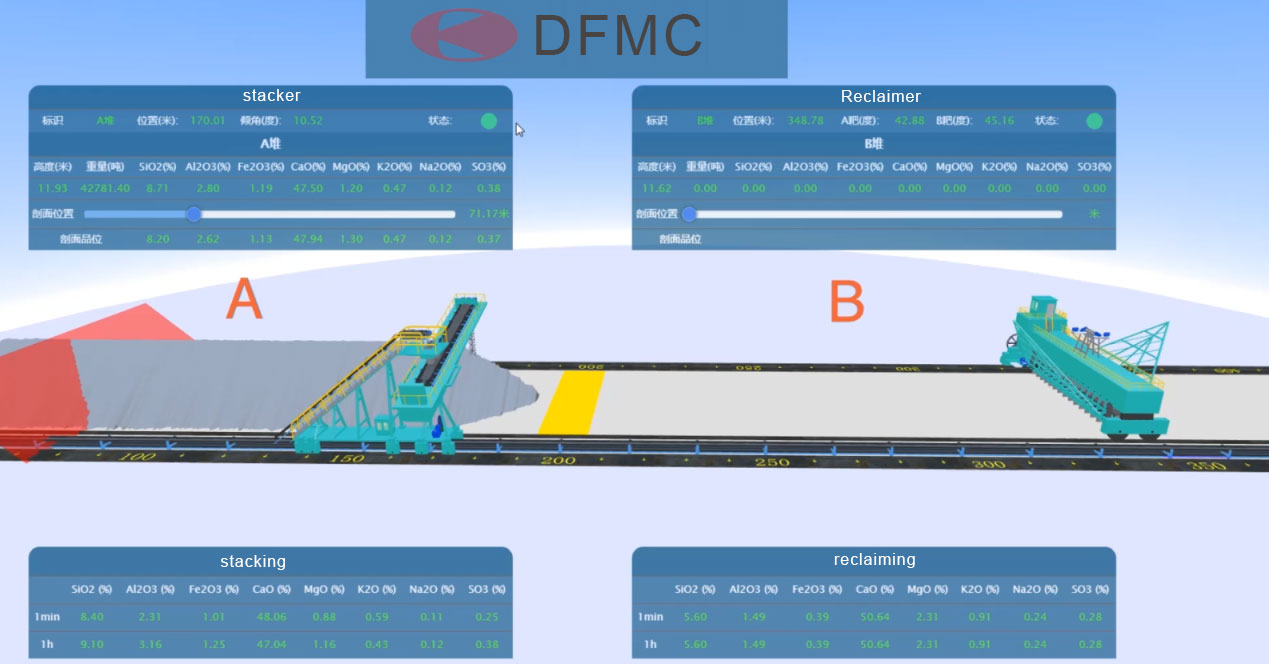 Kiln & mill expert control system
The system uses MPC model prediction control technology. Through the step test, we can grasp the coupling mechanism between variables in the cement production process, we build a multi-input and multi-output predictive control model, and continuously search for optimization through repeated prediction-feedback correction-rolling optimization, so as to achieve better control of the cement production process.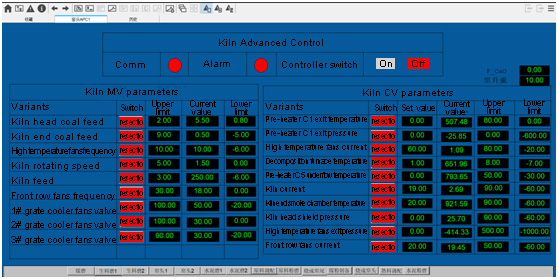 Equipment fault prediction and health management system(PHM)
PHM is a project that uses all kinds of data generated in industrial systems and constructs equipment fault database, expert database and experience database by signal processing and data analysis, eventually realize prediction and management of health status of complex industrial systems.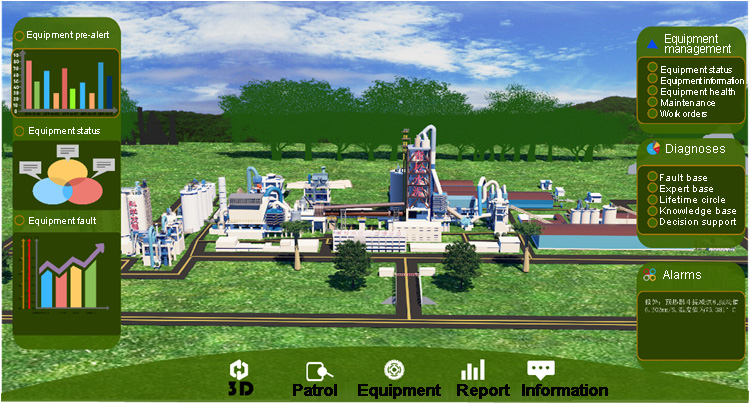 Intelligent inspection system
Intelligent inspection system is designed to realize intelligent and unmanned factory, it can replace manual inspection of belt conveyoring system, underground tunnel, power distribution room, workshop and other locations. The system relies on a camera and multiple sensors carried by the inspection robot running reciprocally on a single track or continuously on a circular track. It observes and judges the production environment, equipment, process conditions, production safety conditions and abnormalities.
Unmanned driving
Unmanned driving uses automation, AI and IOT technologies to realize automatic, intelligent and unmanned driving. It includes driving routes optimization, unattended truck loading, intelligent garage safety protection and vehicle health diagnose.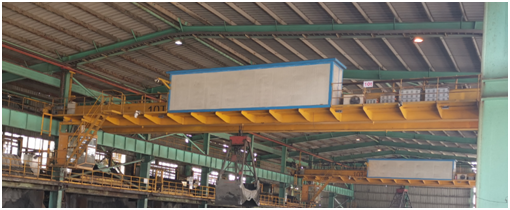 Intelligent logistics
Intelligent logistics system uses IOT, big data and artificial intelligence technologies to realize the automation and intelligence of the procurement and sales process of bulk commodities. The system realizes e-commerce platform, unmanned access control system, unmanned automatic weighing system and self-service loading system, etc.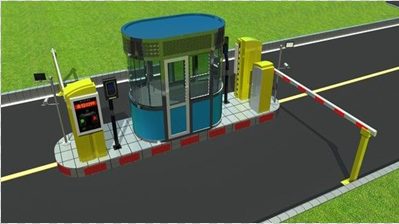 MES
MES is a comprehensive and refined control platform of personnel, equipment, materials and mineral resources in the production process, the system can interact and interface with other information systems such as intelligent logistics and ERP systems for data and messages, so as to open up the data layer of enterprise production management.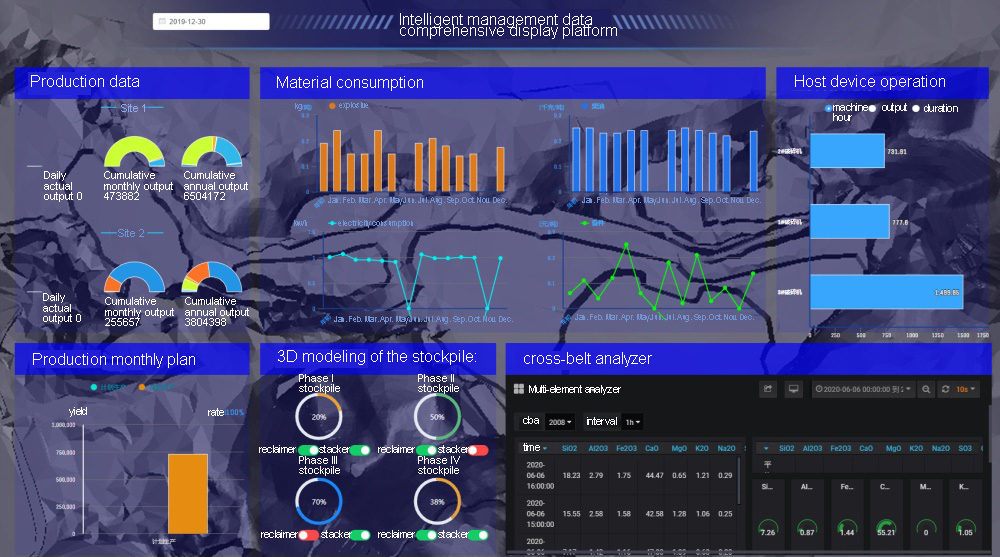 3D digital factory
The 3D digital factory adopts digital twin technology to create 3D models and scenes of factory plants, processes and equipment. It collects production, equipment and other related data in real time to digitize, model and intelligently manage the real-time status of production and various data. The system supports 3D roaming, equipment status monitoring and control, safety warning and other functions.