Slurry Bubble Image Analysis System for flotation froth is using computer vision technology to analyze bubble images in real time, so as to get the characteristic data of bubbles in the flotation cell. It is difficult to ensure the accuracy and timeliness of monitoring data in traditional process, and to solve the problem that reliable data cannot be provided for the optimization control system.
1.Using non-interference computer vision technology, statistical theory and advanced analysis algorithm, real-time output bubble size, moving speed, color model, crushing rate, texture and other flotation froth state.

2.It is suitable for the detection and control of bubble state in flotation system.

3.Detection time: single channel image analysis time < 200 ms, and multi-channel parallel analysis; Measurement accuracy: 90%, better than 90% in good condition; The output image is clear and true.

1.Provide bubble real-time video images for the flotation line staff.
2.It provides data support for standardizing flotation control.

3.Provide data support for flotation production traceability.

4.It provides effective and accurate data support for mineral processing optimization control.

5.Monitor the speed of foam movement, adjust the control strategy in time, and stabilize the production rate.

1.The real size of bubbles.
2.The number of bubbles of different sizes.
3.The percentage of bubbles of different sizes.
4.The average velocity of foam.

5.The average life cycle of bubbles.

6.RGB color characteristic vectors of bubbles.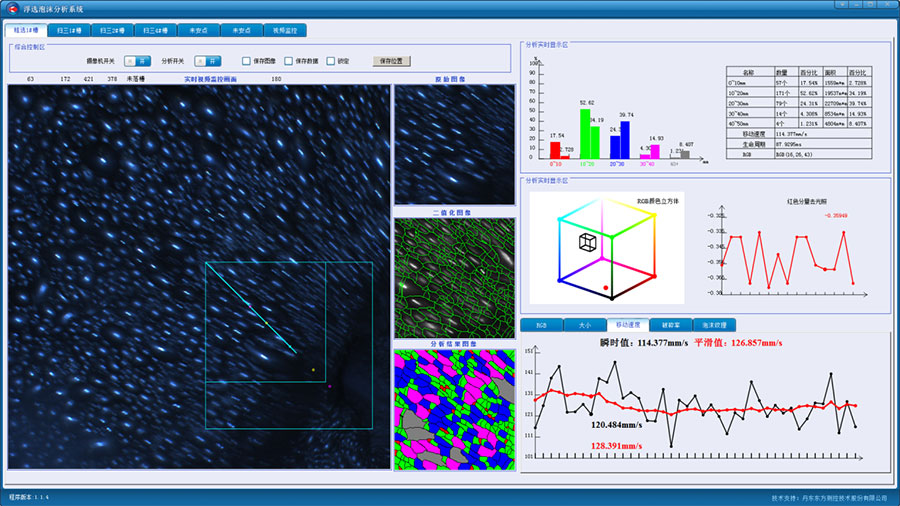 With the improvement of flotation automation level in China, it gradually provides a good development space for the research of flotation optimization control and expert system, and has achieved certain results.
In recent years, with the rapid development of computer and electronic technology, computer vision technology has become a feasible solution in the industrial field, and is further introduced into the control of foam flotation process. DFMC's flotation bubble analysis system has achieved good application results in this field.